The ten highest mines in the world operate about 4,000 meters – about 2 ½ miles – above sea level. All of them are in Peru and Bolivia. About 70 percent of South America's mines operate above 3,500 meters (2.17 miles) high or higher. Peru's vast mining industry produces more copper than any other country in the world. And it could produce even more of it and other precious metals if only miners could climb to them.
In these conditions, miners look for any angle they can get to improve their yield. Drone photogrammetry can make a real difference here. That said: drones – like people – can work poorly two miles up.
C-Astral Aerospace first tested its Bramor UAV in the Andes in 2012. The Slovenian firm's precise orthophotos and detailed digital terrain map of the Los Pelambres mining area in Chile went to an ergonomic ground station from an altitude of 4,150 meters above sea level. "It is impossible to monitor it all on foot because of the threat of avalanches," C-Astral's executives noted at the time.
The highest altitude mines are at La Rinconada in Peru, which is the highest place on Earth where people live. La Rinconada is 5,000 meters (3 miles) above the sea, and the only reason anyone lives there is for the gold. Toromocho Mountain may have the world's largest untapped source of high-quality copper. But much of the untapped reserve in the Andes rests at 4,700 meters (2.9 miles) above sea level.
Here's a shot of a DJI Phantom 4 observing a blast at a quarry on Toromocho.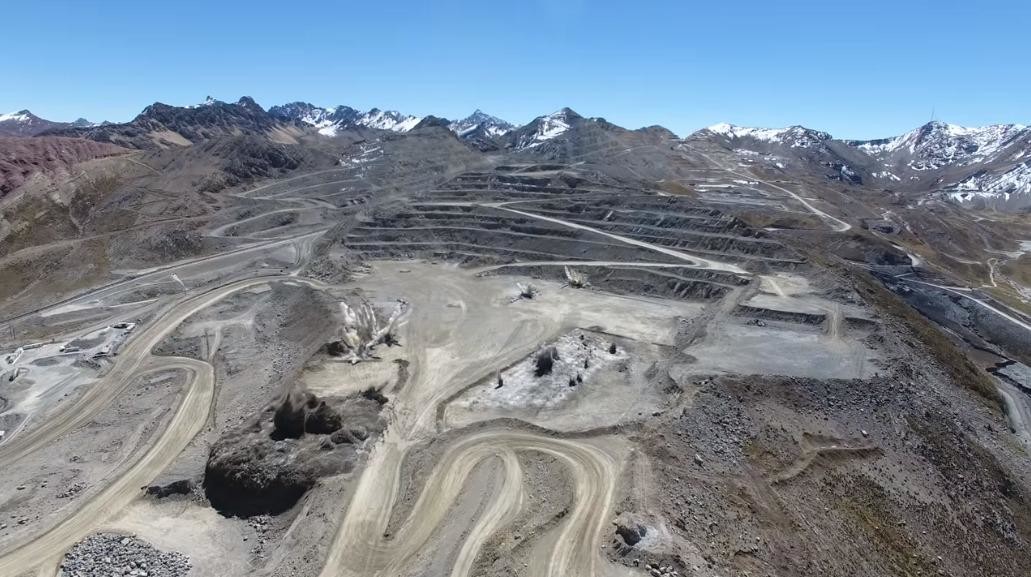 Loiter time for a rotor drone might be an hour at sea level, but the wind and cold of a mountaintop cuts that time to minutes.
Industry literature discusses the effects of high-altitude operations on miners, from their susceptibility to hypoxia and high altitude pulmonary edema to being able to check for silicoidosis on someone who may need breathing gear to work. But it's only now getting around to how to manage drone operations at altitude.
A team from the French drone mapping startup Hélicéo spent a week in February field testing two of their drones at unprecedented altitude. Temperatures for the team started at 25°C (77°F) in Lima, fell to 15°C (59°F) at 3,500 meters, and near 0°C (32°F) at 5,000 meters.
The team took coca extract to manage their altitude sickness, and portable heaters for the drones.
"It is essential to protect the devices against the cold risks," the firm wrote in a blog postdescribing their adventure in February. "Above all, batteries should be stored in a place at room temperature. It is also necessary to anticipate the internet connection unavailability at altitude to avoid the mission cancellation. For this, it is recommended to pre-upload maps."
The firm's FoxyPro drone is a VTOL airplane drone, tested successfully to 4,000 meters. Hélicéo tested its multirotor SuperFox6 successfully at 5,000 meters. The thinner air required changing rotors on the drones, but the equipment changes were less critical than managing wind gusts of up to 57 km/h (34 mph), Hélicéo said.
A research partner of QuestUAV performed similar tests last year. The Ecuadorian-based pilots made a series of test flights with a 2kg fixed-wing DATAhawk 3,000 meters up in the Andes, for cadastral mapping and the calculation of municipal taxes.
The QuestUAV team noted the importance of site planning in the rugged terrain. "Any suitable test site must take into account the reality of the landscape in which any future work is to be carried out," they wrote, "locating a site with good visibility and minimum obstructions found when performing flight operations – especially for landing."
The value offered by these systems are widely accepted and mining operations are reaping the benefits of big data input, there is still however an ever-present learning curve for high altitude operations.
We exist to help clients navigate the complex web of high altitude mission ready hardware and software choices out there, championing an unbiased advice mantra. Our end goal will always remain figuring out exactly what you need and nothing more.
So when your team is looking to fly at altitude avoid querying Google and becoming overwhelmed. Instead reach out to an industry expert. Help us help you.
Sincerely, Dave.
Co-Founder | skymineUAV dave@skymineuav.com
#Drones #Photogrammetry #IOT #BigData #UAV #UAS #Mining #Survey #Software #Digitalization #QuestUAV #Hélicéo #C-Astral #DJI #LaRinconada #LosPelambres #Peru #Bolivia